MIIS: A Markdown based CMS for IIS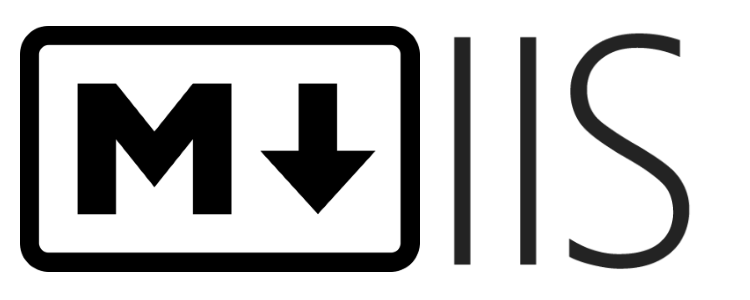 A Markdown based CMS system for IIS by @jm_alarcon.
Your Markdown-based documentation system or web site in less than 30 seconds!
System Requirements
Internet Information Server 6.0, 7.0, 7.5, 8.0 or later
.NET Framework 3.5 or later (usually already installed on the server)
Features
Out of the box support for all the most common markdown file extensions: .md, .markdown, .mdown, .mkdn, .mkd. You can add your own extensions
Serve plain HTML from Markdown
Serve enriched HTML applying any CSS styles (several included out of the box).
Easy support for custom templating and navigation for the served files. You can create a CMS (Content Management System) directly from Markdown files in no time! Several site templates included.
Template caching for maximum performance
Optional Markdown file caching
Great support for Markdown and Markdown extras
Quick Start
Your Markdown-based site running in less than 30 seconds:
Create an IIS virtual server pointing to the folder containing your Markdown files
Download the latest version of MIIS from the "Releases" section of the MIIS GitHub repository
Uncompress the contents of the ZIP file inside the folder from step 1
Navigate to your website with the browser. You're all set up!
You can mix Markdown files with HTML, ASP.NET, PHP or any other server-side resource.
Advanced set-up
Known Issues
Only "#" syntax supported for guessing the current Markdown file title.
Source code
This is a free and Open Source software. You can check the full code and documentation on GitHub.
Contribute
You can contribute to the project with bug fixes, new templates, new features and translations of this documentation to other languages. Follow the normal flow of OSS contributions in GitHub (fork, make changes, pull request).
I plan to add a "Showcase" section in the future. If you use MIIS to create the documentation for your project, a document-based site, etc... please tweet it to me with the URL.
And spread the word. Thanks! 😄
You can open any issues you may face, using the "Issues" section for the project on GitHub.